Product
Paper Pulp Egg Carton / Box / Tray Automatic Labeling Machine with Automatic Feeding X-Table Robot & Output Conveyor Collecting System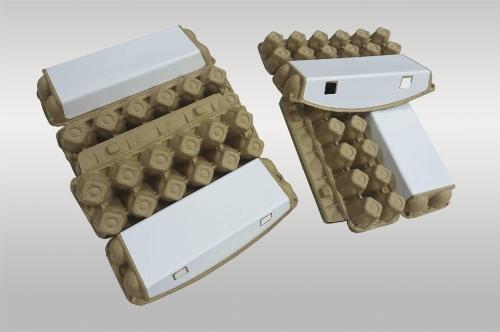 For Recycled Paper Pulp Series with CE Certificate is Available
Product ID: Paper Pulp Egg Carton Labeling Series EGMRC-66 (165)
♦ MODEL: EGMRC-66 (for 10/12-cell)




♦ TYPE: 2H5S


• Automatic Output Conveyor Discharge Type


•

CE Certificate is Available
♦ Application:
• Special for Recycled Paper Pulp Formed Egg Carton / Box / Tray
• General Water Base Cold Glue Labeling
• Optional Hot-Melt Glue Labeling
• Inter-Changeable Top-Chain Conveyor with Inter-Changable Mold-Sets
• Automatic Feeding-Labeling-Collecting

* Integrated Control Sliding X-Table Type of Robot System with 2 Sets Stack-Hopper Fixed Type Automatic Feeding System
* Servo Motor Control ​Labeling & Transporting System
Specifications:
♦ Control System:
- Programmable Logic Control System: Japan "Mitsubishi" PLC
- Labeling System: Japan "Yaskawa" Servo Motor
- HMI: Interfaced Control Touch Scrrn Monitor

♦ Designed / Operation Speed:
Approx. 20~30 / 24~28 pcs/min
Features:
♦ Function & Advantages:
- Egg Cartons/Boxes/Trays Vacuum Force Taking-up with Separating System
- Stacked Egg Trays Feeding Automatically
- Integrated Control Sliding X-Table Robot System with 2 Sets Hopper Fixed Type Automatic Feeding System
- Egg Cartons/Boxes/Trays Automatic Transportation System
- Products Position-Setting Automatically
- Automatic Label Taking and Transporting System
- Precisely Automatic Gluing and Labeling
- Integrated Control with Output Conveyor System
- Labeled Egg Cartons / Boxes / Trays Automatic Change to Vertical Standing Direction
- Horizontal Stacking Output Discharge Automatically
- Labeled Egg Cartons / Boxes / Trays Automatic Horizonal Output Continuously

♦ Collecting Type to be Select:
a). Continuous output discharge for colelcting.
b). Batch output discharge for collecting.

* The brand names of products shown in the catalogue are the reference application to our manufacturing equipment only.