Product
Fully Automatic Facial Tissue / Towel Paper Box Packing Machine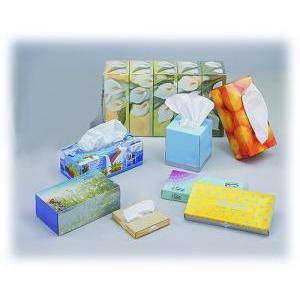 Product ID: Tissue Paper Packing UC-228-BPAA Series (23)
Fully Automatic Paper Box Packing for Facial Tissue / Tissue Paper Hnad Towel / Hygienic / Houseware Products

• Tissue Paper automatic inserting.
• Paper box automatic opening.
• Paper box automatic sealing.
• Integrated control with whole production line.
Specifications:
For facial tissue cardboard box sealing & packing
Also for hygienic products
Designed / operation speed: 100 / 50~70 Boxes / Min
Programmable logic control (PLC)
Inter-faced touch screen monitor (HMI)
Activating system: Cam type mechanism
Features:
Paper box board stack hopper magazine
Paper box automatic take-off
Paper box automatic opening
Automatic tissue inserting into opened box
Automatic mechanic hot melt glue applying type
Automatic jet spraying type hot melt glue applicator to be optional
Automatic box sealing
Automatic output delivery
* The products of sample shown in photograph are for wrapping application reference only.