Product
Fully Automatic Tissue Paper Toilet / Kitchen Towel Rolls Over-wrapping Machine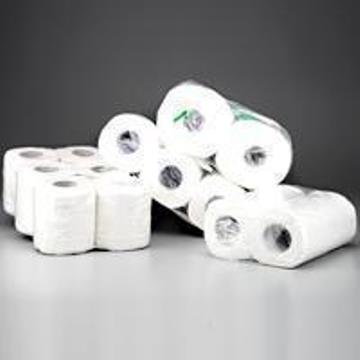 Product ID: Tissue Paper Packing UC-406-DS Series (16)
♦ Fully Automatic Overwrapping Type

• Plastic film double-side folded seal overwrapping type
for tissue paper toilet / kitchen towel rolls.
• For toilet rolls 2, 4, 6 rolls.
• For kitchen towel rolls 2 rolls or 4 rolls depend on specification.
• For 1-layer arrayed configuration.
Specifications:
Special for toilet / kitchen towel rolls
High accuracy mechanical cam system
Programmable logic control
Inter-faced touch screen monitor control (HMI)
Servo motor control system
Wrapping material: PP, CPP, PE
Front-process can be arranged by alignment system for automatic feeding
The production line can be arranged integrated feeding from toilet/kitchen towel roll machine by special designed distribution system of machine
Features:
Precise & easy adjustable film cutting system
Compact and easy operation for setting parameters
With automatic wrapping film feeder
Wrapping film adjustable system
With automatic toilet rolls feeding system
Sealing: by electric heater and belt heater
* The products of sample shown in photograph are for wrapping application reference only.
See more complete detail
♦ Possible Configuration:
• Toilet Roll:
2 x 1 = 2 rolls, 2 x 2 = 4 rolls, 2 x 3 = 6 rolls
• Kitchen Towel Roll:
2 x 1 = 2 rolls, 2 x 2 = 4 rolls (Depend on Spec.)