Product
Automatic Inter-Fold Tissue Paper Converting Machine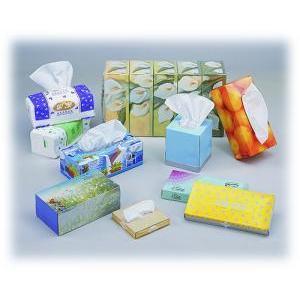 Product ID: Converting Sector UC-228 Series (14)
♦ Automatic Facial Tissue Converting Machine

• Built-in Slitting Type.
• Down-flow Process Cutting Type.
Specifications:
For V-fold facial tissue / Inter-fold hand towel products
Designed / operation speed: 120 / 90~100 m / min
PLC control system (PLC)
Inter-faced touch screen monitor (HMI)
Features:
Included

Parent paper lift system with air cylinder
Paper feeding speed control belt
By stepless speed controller
Parent paper position(left-right) adjust wheel
Test/adjust manual wheel
Paper angle adjust roller with adjust wheel
Take-off roller
Take-off roller speed controller
Paper pusher adjust
Folding roller position adjust
Counter mark printing device, or position separating / mark device counter
Emergency stop switch
Finished paper stopper or direct feed onto conveyor

Optional

Extra full embossing unit-pneumatic function system
Extra edge embossing unit-pneumatic function system
Extra automatic web tension control system
Extra printing system
Can choose converting machine without built-in slitting system to connect automatic type of feeding machine and tissue cutting machines.
Can be arranged automatic feeding for integrated control packing section.

Other optional

Converting production lines can be arranged with integrated feeding machine and conveyor to wrapping machine or box sealing machine.